About heckmann
Head of heckmann is Director Vibeke Heckmann.
The point of departure for Vibeke's work with the development of people and companies is motivation and wellbeing. And she is renowned for her unique ability to make business and HR strategies come together as a whole.
Within the last 10 years, Vibeke has completed more than 300 recruiting assignments and in excess of 1,500 development and coaching interviews. This affords her a unique ability to clarify professional competences and personal abilities – in depth and with a wide perspective.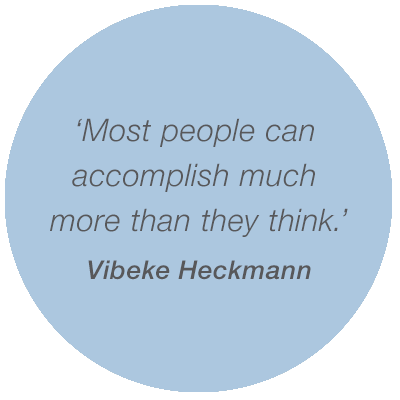 Vibeke established the consultancy firm heckmann aps in 2002. Her goal was, and still is, to make a difference that is visible both in terms of a company's image and its bottom line, while simultaneously working to increase the wellbeing of employees.
Previously, Vibeke was a partner in the consultancy firm Cultivator A/S, she was vice director at Danish Management Forum (later Centre for Management) and she was head of personal development at Copenhagen Air Services.
In 2014, she established the jewellery brand nots by heckmann. You can read more about it here.
For full career description and photo click here.